In yet another unprecedented initiative, the company is recognized as a producer of Reference Material with proven commutativity for Covid-19
Since the beginning of the Covid-19 pandemic,
Controllab
has made its know-how available as an important ally of the diagnostics sector. The company forerunner
SARS-CoV2 External Controls
to ensure the analytical accuracy of testing, earning recognition as the world's first accredited provider for all virus detection methodologies. In addition, it pioneered public performance evaluation reports that helped kit manufacturers and laboratories make decisions about their analytical systems. The company's vanguard has been consolidated in another initiative: Controllab is the precursor of the
Reference Material (RM) for Covid-19
with proven commutativity.
The importance of commutativity and RM for Covid-19
Commutativity is evidence that the RM has the same behavior as the clinical sample. That is, with the same characteristics, not undergoing significant changes during the material preparation process.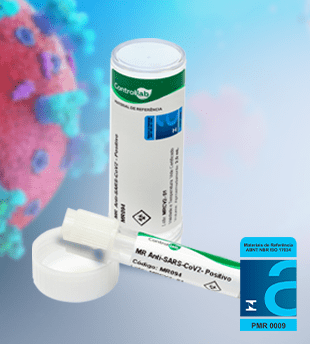 The RM for Covid-19 is intended for IgG and Total antibody identification tests for SARS-CoV2, and can be used for evaluation of Automation and RLT (Remote Laboratory Test) / POC (Point of Care) systems. The RM offer complements the quality control tools, such as the
Proficiency Testing
and
Internal Control
, regarding the verification of effectiveness, methodological validation, implementation and selection of analytical systems, in addition to the evaluation of processes. "The RM for Covid-19 with proven commutativity will infuse more confidence into analytical processes. The user has the use of the material as a very important tool to avoid false positive or negative results", comments Vinícius Dias, manager of Chemical Tests at Controllab.
Differential that attests to competence
This pioneering spirit is Controllab's brand, which is known for its competence, experience, trust and innovation. The company has been accredited since 2016 by Cgcre do Inmetro as a Reference Material Producer (
PMR 0009
) and applies the same quality throughout its production, regardless of material recognition. "This initiative is the result of an innovative environment stimulated by the company's board of directors. Mr. Márcio Biasoli, Controllab's founder, launched the challenge and provided the support for the research and development necessary for the recognition of the material. It is a collective achievement that fills us with pride", adds Vinícius Dias. The RM for Covid-19 is lyophilized. This characteristic preserves the material during transportation. To apply the RM for Covid-19 in your activity, access the
Material information page.